I'm back to one of Blogger's plain old templates because I was tired of that layout and I can't find any that I like.
I need to just cave and make one, but I just DO NOT want to code it. I hate coding. :( Haha.
I am still really freaking excited to order my Coastal Scents palette, which I will probably be doing on Tuesday. I need to cash my check on Tuesday as well.
Speaking of money, I really need to find a new job! I like mine, but it doesn't pay well and I only work about 6 hours a week... that's just not cutting it! I'd love to work somewhere that I could have outrageous hair colors, because I'm getting quite bored of my hair, but I still want to grow it out. There's always the option of dying it, but I've had a lot of colors. I'm tempted to go blonde, I mean, I really sort of want to, I'm just afraid of messing it up or just looking terrible.
Last winter I really wanted to learn to snowboard, but I never did. I still really want to and I think I'm going to try and make it happen this time! I saw these BEAUTIFUL snowboarding boots in cosmogirl! and well, I'm fersure putting them on my Christmas list. Speaking of that, my mom keeps telling me to make one, but every time I put stuff on there, people hardly get me anything off of it? :( Hah, oh well. I don't have many wants, just a lot of money for things like clothes and of course, makeup.<3
Oh yeah, check out the boots that I can not live without: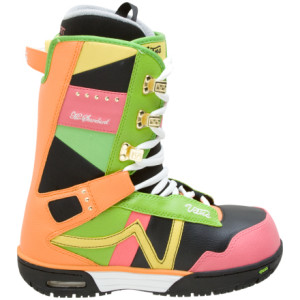 I hate the way I've been writing my blogs lately, it's very... sloppy.